Jessi and I are both taking part in the Sew What! sew along hosted by Until Wednesday Calls and Confessions of a Sewing Dork and we have just finished up our week 2 challenge! We were to make a bag with a word (or words) on it....the possibilities were endless and here is what we both came up with!

I decided to make a crochet hook bag since mine are always floating around the house. The fabrics are all repurposed - futon remnants and a thrifted pillowcase! I didn't have a zipper on hand so I just did a button/elastic closure.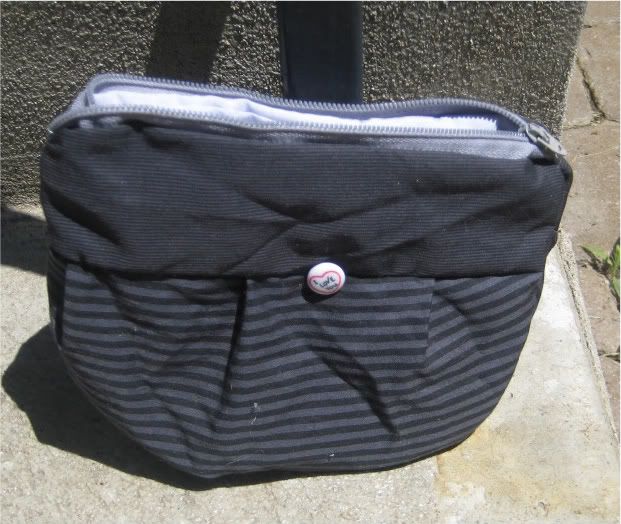 Jessi made a little zippered pouch and her fabrics are thrifted men's buttons up shirts - since Cassie gave her a big bag of them!
It is made of two shirts
and the inside lining was cut around the front pocket of the shirt to make it look like it has two compartments.
The

week three challeng

e has also been posted - it is a filled form like a pillow or doorstop. We are still using our chosen fabric plus a second fabric and it is suggested that we try our hand at reverse appliqueing! Hmmmmm...I guess I will have to figure out what that is and how I can work this project into some type of Fathers Day Gift! :)
PS -
What do you think of our summery new sidebar photos? We did the photoshoot a while ago but just got around to changing them now! Hope you all had a great weekend!